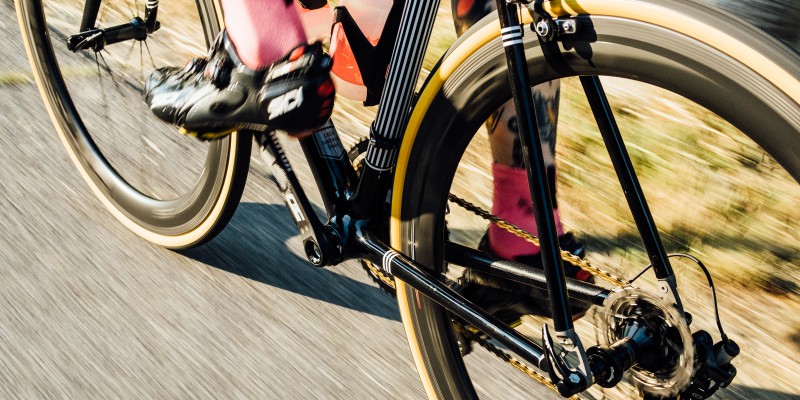 The Vision Metron 55 clinchers first arrive in a nice wheel bag that comes with every set standard. Inside I was greeted by a front and rear wheel and well-packed accessories: brake pads, quick releases and everyone's favorite consumer manuals. The brake pads supplied are produced by SwissStop, which leads me to believe they are just re-branded Black Prince pads. Another immediate impression is that these 24mm wide rims will ride great when paired with a good 25mm tire. The rims have a matte finish and a braking surface of 12k. A great plus is that the decals are easily removable, making these wheels much more attractive.

The 2:1 lacing pattern was also a very interesting topic when I was first given these wheels. The rear wheel is laced 2x on the drive side with 14 spokes, the non-drive side is 7 spoke radial laced. With this combination the spoke tension only had a maximum of 5% difference of the total tension, where normal wheel builds have up to a 40% tension difference from drive side to non-driveside. We shall see if this actually translates into noticeably more stiffness.
Vision Metron 55 Carbon Wheel Set Clincher
Vision Metron 55 C
Material
Rims: carbon, Front hub: carbon, Rear hub: aluminium, Spokes: stainless steel, Nipples: messing
Rims
Height: 55 mm, External width: 24 mm
Spokes
Sapim AERO bladed spokes, front 18 (radial), rear 21 (driveside: 14x 2-times crossed / non-driveside: 7x radial)
Hubs
New extra light P.R.A. hubs for DP spokes, 6 sealed cartridge bearings (2 F + 4 R) mounted on a 17mm hub axle diameter, front 100 mm, rear 130 mm
Weights
Front wheel: 782g
Rear wheel: 945g
Set: 1.727g (Manufacturer specifications: 1.595g)
Color
Rims: UD carbon/black with grey decals, Hubs/spokes/nipples: black
Min. tire requirement
23mm
Included in delivery
Incl. quick releases, 2 pairs of brake pads, wheel covers, 9-/10-speed spacer
Retail Price
€ 2.236,99
Setup & ride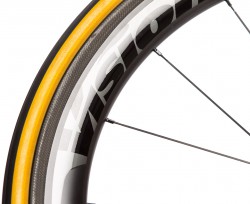 The first set up of the wheels was a breeze. The rims were not troublesome with the 25c tires I paired them with. After fully inflating the tires the 25c measured out to actually be 26c, which I was not complaining about - I prefer a bigger tire any day of the week. Taking a step back and soaking in the new look of my bike, I can say that the wheels look good (even though I could not take the stickers off which would have made the wheels 100% better looking). On my initial test ride around my neighborhood, the wheels felt sturdy and fast under me even on the tightest city corner.

It was a nice warm evening when I got to take the wheels out for their first real world adventure. Immediately as I rolled out of Vienna I was greeted by an enthralling noise coming from the wheels. It was as if the wheels were enticing me to go faster and faster because the road noise would grow slightly as I pushed the speed. The noise reminded me of my first weekends at criterium races, hearing the pros come whizzing by with the noise from their wheels, making it seem like they were going superhumanly fast. Unfortunately after just about 40 km this sound was soon overtaken by a terrible rattle every time I went over rough pavement or when I got out of the saddle to sprint. The rattle was then followed by a significant amount of lateral movement in both wheels, the rear moving at least twice as much as the front - which doesn't surprise me due to the amount of force in the rear wheel. Nonetheless, this noise and movement made me unsure of the cornering abilities and led me to ride significantly slower and head home earlier than planned.
Vittoria Open Corsa SC 25c Tire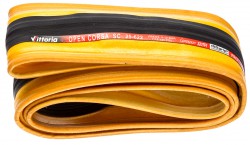 Vittoria Open Corsa SC 25c tires in Black/Para (black tread with tan side walls). They are rolling fast while giving you added comfort - a combination which rarely happens.

Click this link to read a long-term review of Vittoria's Clincher version of the world's best-known tubular, with hand-made 'open tubular' construction.
Following rides
After my first ride I took my bike to my shop to investigate the noise and the lateral play in the wheels. After getting the wheels off my bike I found that the preload for both hubs had completely come loose. It took a total of 15 minutes to re adjust both hubs and have them back on my bike. Though this helped significantly, I still found that the rear wheel would move slightly under high loads while sprinting or attacking.

With these wheels being 55 mm deep they rolled extremely well on flat ground or low rolling hills, although I can't say they handled that great while climbing - though I doubt it was something Vision was trying to focus on when they designed these wheels. I found that while climbing it was hard to get the wheels up to speed and keep them there. It seemed that they wanted to slow down unless I was on flat doing more than 38 km/h.
After dragging these wheels up climbs they went down hill like a bat out of hell. Like I said: anything above 38 km/h and these wheels were moving. Due to the overall good stiffness of the wheels they cornered great no matter how tight the corner or how fast you came into it. This paired with the great braking modulation gave me great confidence to really push the descents in my area. Their performance also did not change at all in the rain. Although the initial slowing comes later as you clear the water from the rim, these wheels brake great, not to mention the great hum from the freehub body, which would grow high-pitched as I barreled down the mountains.
Conclusion
Vision Metron 55 Clincher
Model year:
2015
Test duration:
2 months, > 2.000km
+
Great look
+
Good stiffness
+
Trustworthy braking power in rain and dry
+
Fast when up to speeds above 38 km/h
-
Hub problems
-
High wind issues
-
Sluggish at lower speeds

BB Rating:

Good mid-range full carbon clinchers.
Living in the Vienna area I am sometimes subjected to intense winds. Even though these are claimed to be Visions end-all wheels, I found that in harsh crosswinds I would have to really hold onto my bars. While these are by far not the worst wheels I have ever ridden in the wind I was not overly impressed with the way they handled it.

Vision's Metron 55 wheels are a solid set for some one looking for something primarily fast on the flats. These wheels were not bad but they are not overly excellent either. If they are in your price range and you want a full carbon stealth possible wheel set, these are right up your alley.