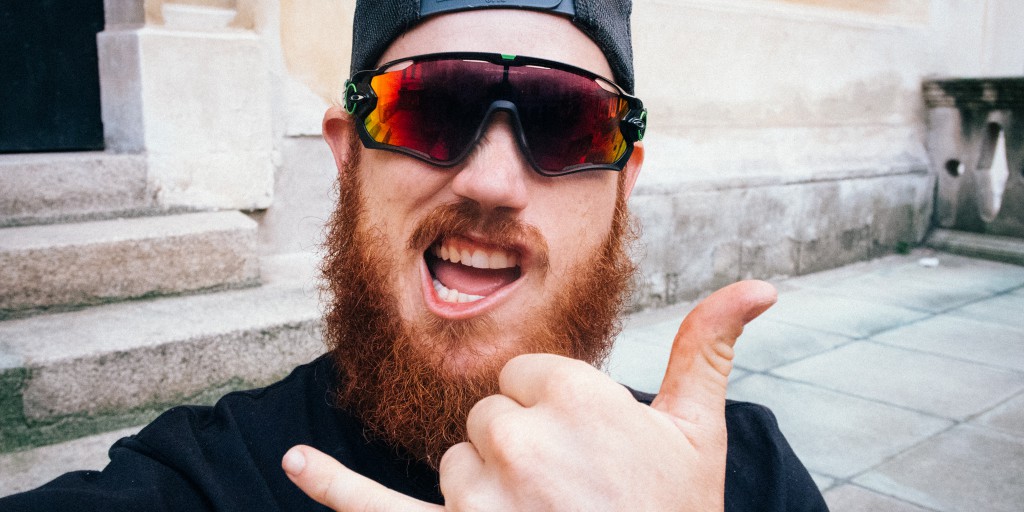 Growing up Oakley was already the leading brand in sports eyewear in my native Southern California. This is not surprising, as one of Oakley's main headquarters was only 2 hours away from my San Diego home. I owned my first pair of Oakley's when I was 10 years old and soon realized they were of some of the highest quality products I had ever put on my face.

Fast forward 17 years, I now find myself enamored all over again with the quality of an Oakley product. Maybe this is sounding a bit biased, but I can assure you that I was fully skeptical of this product before it ever reached my hands. I am of the group of cyclists who actually does not enjoy wearing glasses. I personally would rather not have them on 80% of the time while training or racing. Most glasses I have used I found lacking in not only style but also functionality.

Style follows function, and for me Oakley's reproduction of Greg LeMond's Legendary Eye Shades - notably my favorite eye protection piece - led me to think what a modern version would look like. More questionably, would it be what I have been looking for in glasses?
In short, these glasses left me not wanting more and fully satisfied in all conditions and situations.
Josh Hayes, Bikeboard.at tester
Cavendish Prizm™ Road Jawbreaker
What is really great is the attention to detail placed in this product - from the full-rimmed frame design all the way down to the unobtanium earsocks and nose pad. Firstly, as mentioned, these glasses are full framed which is usually a disaster for riders who ride in a more aggressive race position. Myself being one of those riders, I found that the frames did not block my view in any position.
Unboxing
Hitting the road
What I am also truly impressed by is Oakley's O Matter material which is found throughout the glasses. As these items are expensive I was worried that my clumsy nature would lead to serious premature damage, which almost happened. After returning home from a training ride I accidentally knocked the glasses from my helmet climbing the stairs to my apartment. The glasses fell down 3 floors, hitting concrete. My first thought was "There goes the test glasses after only 2 weeks. Great, Josh". However, when I picked up the Jawbreakers I realized they did not even have a scratch on them. Though this was not a crash at 60 kmh or more, it was a sign of everlasting qualities.
The adjustability of these glasses is also on a higher level. I have never before owned a set of glasses which let you adjust the length of the arms reaching your ears. Though I thought this was a trivial adjustment, it actually proved helpful. I was able to test whether longer or shorter was more comfortable for me. I found that I actually preferred the longer adjustment setting; I would have never known this was better until I was given that option.
Also, a great touch is the unobtanium found on the adjustable arms and nose pad. This material is activated by sweat and becomes tackier as you sweat more. This was great as it kept the nose piece secure to my face during all-out-sprints, which is where you want everything to stay in its place so you can concentrate on pushing. At the nose pad is where the locking system for the Jawbreaker is found. With a quick lift of the nose pad the lock is opened and it allows you get to the lens to replace it, or thoroughly clean it. At first this can be a bit tricky, but after opening and closing the system a few times it became second nature, and much easier than previous systems I have owned.
Cavendish Prizm Road
Product
Oakley Mark Cavendish Signature Series Prizm Road Jawbreaker Polished Black/Prizm Road Glasses OO9290-10
Material
O Matter synthetics
Features
Extended field of view in the upper peripheral region to optimize for cycling
Unobtanium ear socks and nose pads keep glasses in place, increasing grip despite perspiration
Switchlock interchangeable lens technology makes lens changing fast and secure
Patented High Definition Optics (HDO) provides superior optical clarity and razor-sharp vision at every angle
Colors
Frame: Polished Black, Lens: Prizm Road (violet orange)
Lenses
Plutonite synthetics
Light conditions
For normal to bright light, changing conditions, 20% transmission, filter category: 2
Dimensions
Lens width 131 mm, bridge width 0 mm, lens height 53 mm, temple arm length 121 mm
Weight
34 grams
Included
Cave Prizm Road Jawbreaker, microbag with lens pouch, sport soft vault case black, nosepad black
Retail price
€ 219,00
Conclusion
Oakley Prizm Road Jawbreaker
Model year:
2015
Test time:
2 months, 2 races, 1,800km
Retail price:
€ 219,00
+
Large eye coverage
+
Great ventilation
+
Outstanding lens quality and clarity
+
Extremely comfortable
BB rating:
Awesome and highly recommended.
As a rider who generally has a body temperature higher than usual, lens fogging is a giant issue and annoyance. The Jawbreaker's large ventilation channels found around the rim of the lens let out all the heat, and actually during descending allow subtle air flow keeping my face free of sweat. The Prizm lens was used in this test, which I found to be bright enough to ride during low light, yet dark enough for direct sunlight. The lens enhances visibility and contrast, which is only noticeable when you take the glasses off after wearing them for an extended period. Oakley's XYZ-Optics technology eliminates all lens distortion found in curved lenses, which is quite helpful when descending on roads with continuous switchbacks.

My conclusion for the Jawbreaker might be the easiest I will ever have to write. They are awesome and the best glasses I have put on my face while on the bike. If you are in the market for something technically advanced and stylistically awesome these should be high on your list.